Reviews and referrals are a huge part of potential customers finding your business. Use these reviews to your advantage with marketing your tourism business. Use our tips for starting a review and referral program to light up your marketing.
The Importance of Customer Reviews
Looking for the ultimate white water rafting tour with the best guide service around? Trying to determine which lodge to stay in for that long weekend getaway? Hoping to lock in a fly-fishing charter on one of the most pristine stretches of water in the state? A quick search in nearly any search engine will land you a plethora of information about each of these, with customer reviews helping the top businesses stand out!
In today's world you can search and find information instantly via your phone, tablet, and computer. It takes mere seconds to find and compare details about a business… what services they offer, their location, what their customers or guests are saying about their experiences, recommendations, and so much more! It would be nearly impossible for you to find someone who doesn't or hasn't done quick research and made the decision to buy (or not) based on reviews and feedback they found.
Data suggests and supports that no matter your business type, having a positive digital presence is critical to your success. Research has even shown that consumers trust online reviews just as much as a personal recommendation! That's huge!
Why are reviews important for your business?
Reviews are good for business, more than you probably realize! Reviews can and will influence a buyer on if they will do business with you or your competitor. Whether it is on your Google Business page, social media, or a reviews section directly on your website, ensure you are using reviews to your full advantage. Have a strategy!
How reviews can help or hurt your business:
Digital Marketing. Simple as that. Reviews are a form of marketing. People trust what others say about you more often than what you say about yourself.
Credibility. You appear to be more credible with recent reviews, showing your business is running and the information the customer is looking through is up to date. No one likes to see your last review was from 3 years ago!
Trust. If customers can see reviews and witness you interacting with them, embracing the positive and addressing the negative, it helps build trust both in your customer service and the service you provide.
Access. Reviews create open lines of communication between you and your customers, providing an opportunity for you to interact with existing customers and to influence the purchasing decisions of new potential clients.
Searchability. Reviews help customers find you via platforms like Google, Yelp, Facebook and more. Reviews help your search ranking and improve your search engine optimization (SEO), ensuring you are easier to find online when people search for your service or business. There are apps that exist to help customers find businesses by utilizing review information to rank you and in turn provide information to your audiences.
In short, reviews are another form of marketing – they are building and supporting your brand and attracting your ideal customers by influencing their purchasing and decision making based on the positive results they are witnessing through others. If you've not yet harnessed the power of reviews in your business development, now is the time! And if you find yourself stuck, we can help! As a marketing agency that understands and has experience in tourism marketing, LUM Studio can help you stand out amongst the rest and reach your goals.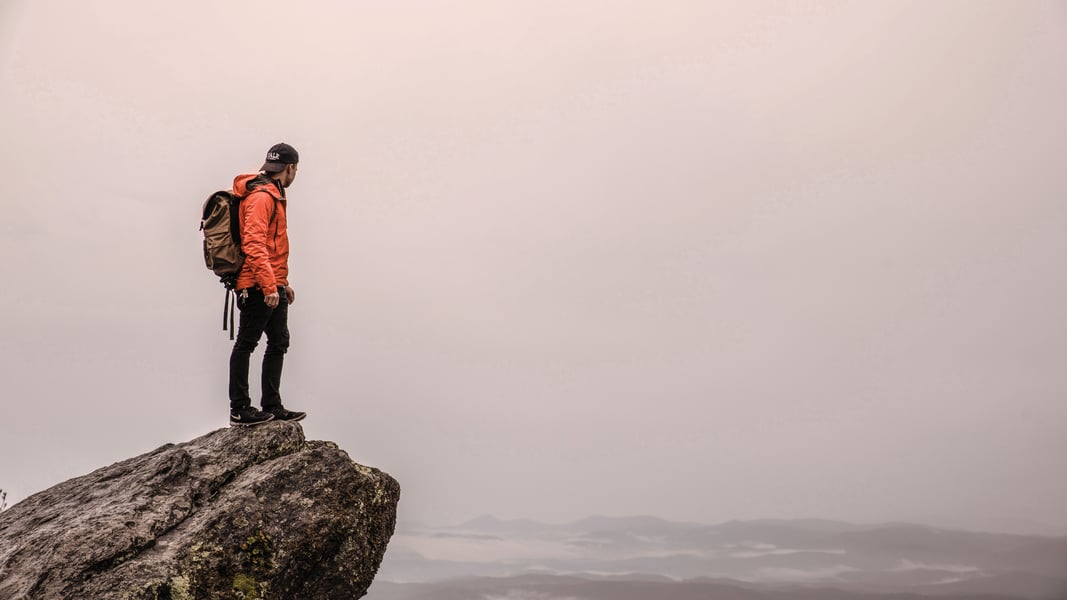 4 Ways to Get More Customer Reviews
So, now that we've covered the Importance of Customer Reviews let's dive into how to get them and ultimately grow your business!
But first…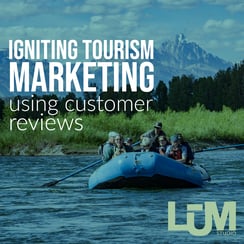 Evaluate your business – to ensure it's the best it can be.
Though this might seem like an obvious solution for anyone in the tourism industry, it's easy to overlook areas for growth and improvement in your day-to-day work. For example, you may discover you don't have a customer service program in place – and you should!
If customers leave negative feedback or voice issues that need to be fixed, ensure those are taken care of and responded to quickly so it can improve the experience for the next customer. Making sure your customers have a positive and memorable experience will guarantee they share their experience with others.
Steps to get more customer reviews:
Ask customers in person to leave a review.
Guest checking out of their room or just concluding their tour or guided trip? This is the perfect opportunity to genuinely ask your customer about their experience and encourage them to leave a review. Make it seamless by having QR code at your desk to your various online business pages including Google Business, Facebook, and Yelp so they can easily find you and begin writing their review on their way to their next adventure.
Send an email reminder.
An email is a great way to reconnect with your customer after their experience with you and make it easy for them to leave a review. As a travel marketing agency, we can't stress this enough – you must get creative with your emails to stand out in someone's inbox. Send your customer a follow-up email 2-3 days after their stay, tour, or experience has concluded and make sure it's customized to them with an eye-catching subject line.
A pre-designed template can be used for this email but add in some unique features to help ensure they read it AND follow through on leaving you a review. It doesn't need to be lengthy, about 1-2 short paragraphs will do. Make it clear that you'd like them to leave a review by including a button that takes them directly to the page where reviews can be made.
Ideas for a customized email blast:
Include their name and recent experience or service in the email.
Write it from the perspective of the person who worked with them directly (i.e., tour guide, front desk attendant, business owner).
If you have photos from their tour/experience include them!
Personalize it with a recent highlight happening with your business. "We hit the slopes on a powder day but wanted to take a break to reach out to you."
Use social media marketing to your advantage.
In the tourism industry, social media is a tool every business should be utilizing greatly. Customers share out photos from their travels & experiences, reaching their own audience and creating some free word-of-mouth advertising for your business!
Encourage your customers to tag your business in their posts and/or use your branded hashtag to keep their posts connected to your business. Spend time responding, resharing, and commenting on their social media posts. This will not only show you are engaged but it is a perfect opportunity to encourage them to also leave you a review.
Have an incentive for leaving a review.
Offer an incentive alongside every review step listed above. For example, offer a 10% discount off their next booking by leaving a review or, in your follow-up email, tell them they can be entered in a giveaway by leaving a review. When seeing their posts on social media, let them know they will be entered for a chance to win a gift card by submitting a review. Any incentives, discounts, or giveaways you do can encourage people to follow through on writing a review.
Pro Tip: We recommend having someone on your team be the dedicated leader of the review program, spending time each week reaching out for reviews and responding to current reviews (both good and bad). Responses are a consistent representation of your business and reviews should be kept a priority. Additionally, never let a bad review or comment go unacknowledged. Customers always appreciate responses to negative feedback.
While there are many ways to grow your review program, the first step is simply getting started by asking your next customer! These 4 ways to get more customer reviews are the steppingstones to growing your list of reviews and helping your business grow.
WHAT TO DO WITH REVIEWS ONCE YOU HAVE THEM ON SOCIAL
You've got customer reviews, great! Now what? Half of the uphill battle for a review program is asking and getting the reviews. The rest of the way up is utilizing and leveraging those reviews to better promote and support your tourism marketing campaigns.
Knowing what to do with your reviews can help drive new business. Customers are out there creating buzz and talking about your business. Why not leverage that through your social media channels and tourism advertising? You know the value of what current and former customers have to say about your business, now take the power of your reviews and implement them in your social media strategy.
Share reviews as posts
Sounds simple but proves quite effective. To help drive new business, tell prospective customers why they should choose your business based on what previous customers have said. Reviews create trust among buyers. Often time people won't even purchase without scrolling through reviews. Put your reviews on blast and in front of people on every one of your social media channels you are on.
Share review posts as videos, quotes, user-generated content, or testimonials to show you truly care what your customers have to say and why potential customers should care and choose your business. Simply sharing reviews on social media builds credibility and trust with your followers.
Pro tip: don't forget about leveraging reviews in stories! Include a short review or snippet in your stories and re-share stories you are tagged in.
Use reviews for social media advertising
Using a review as a social media ad is almost a no-brainer! As mentioned above, reviews create trust, and if there's one thing people question online, it's advertisements. However, social media advertising is most likely part of your strategy (if it's not it should be!) and what better way to create credibility through an ad than to use a review.
According to research, 88% of customers trust online reviews as much as personal recommendations. Driving new business by sharing what other people have said about your business builds brand reputation. Just as you've created a social media post featuring a review, use a review as a visual for a social media ad.
Did you know over a third of people find new travel destinations on social media? All you have to do now is put some advertising dollars behind them and reach a wider audience to help drive new business.
Build an engaged community
Social media is about engaging, interacting, and building a community. Use advocates of your business to help build a community based around your brand or business. Create a fun space for people to share and respond to content centered around your offering.
Host giveaways and incentives for posting reviews. Make a big deal about people reviewing your business and the experience they had with you. Be sure to be present on your social media channels and thank people for their reviews and always respond to every review – good or bad.
People will come to your page to find answers to their questions, but they will stay for the community you have built online. By viewing reviews left on Facebook, they will see you are an engaged business who cares what their customers have to say, and people will always find value in that.
Sharing reviews on social media doesn't end here; there are so many ways to leverage reviews on social media to drive new business. What you don't want to do is work hard to earn reviews for them to sit online and collect dust. Grab them and use them on social media to truly get that 5-star rating.
WHAT TO DO WITH REVIEWS ONCE YOU HAVE THEM ON google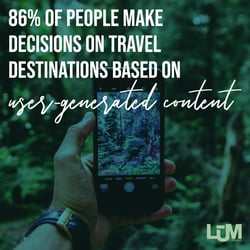 Just like you will use reviews to your advantage on your social media, it will be easy to repurpose supportive reviews through a variety of Google platforms throughout your tourism marketing campaign. Because Google is so versatile and user friendly, reaching potential customers is a piece of cake once you have everything set up. Did we forget to mention that most of these options are free? An even better reason to put your reviews to work right away.
Share reviews as posts on Google My Business
Google My Business has been expanding their app for years, but more recently users are able to share updates on their business page. Not only is this very easy to do, but it will also reach an audience not found on social media. Share your reviews in the form of testimonials, videos, or graphics.
Pro tip: Reuse posts created on social media and modify them for your Google Business page.
Use reviews for Google Ads
You may already have a budget set aside for Google Ads. While your wording length will be limited on Google Ads, there is an opportunity to use reviews in the form of testimonials on the graphics of your ads. Visuals are a powerful component of any campaign and this rings true for Google Ads too. Don't miss an opportunity to use paid advertising in conjunction with reviews to get in front of your target audience.
Build Reviews with Related Keywords into your SEO program
Use reviews to your advantage even on your website. You can use any good review on your website in a testimonial section so users can see what your customers are saying while they peruse your site. But, to make a big impact, choose reviews that have some of your previously chosen keywords mentioned in them. This will allow you to use reviews, but also lend to the ever-important SEO on your website.
Pro tip: Embed Google reviews on your website for a greater impact on your SEO. Users will see the Google reviews on your site and improve your ranking on Google with one action.

As you've seen through all of our tourism marketing tips, it is easy to utilize your reviews in a multitude of ways. Don't let your reviews sit unused. Research has shown that nearly 93% of users read reviews before purchasing a product or service. The influence of reviews can go a long way in securing new and lasting business for your company.
How to respond to negative feedback
First you implemented a strategic plan to encourage customer reviews, the your started receiving glowing reviews from your customers. Watching the reviews roll in has never been more thrilling!
But with those positive reviews, there is also the possibility of receiving the oh so defeating, negative feedback. Never fear! There are multiple tools you can utilize when coming face to face with a negative review.
1. Develop a Community Guideline Policy
Along with incentivizing your audience to engage and provide feedback with your content; take the time to build out a Community Guideline Policy.
A Community Guideline Policy acts as the roadmap for how you and your audience engage with each other. A good policy will encourage communication, establish boundaries, and enforce a safe environment for your audience.
When creating your Community Guidelines, start with the end goal in mind. How would you like to see your community interact with each other and you? Establish your guideline principles off the core values you want in the online community you're building.
Be direct. Use language that will result in requirements that must be held by all community members. Try to avoid jargon or overly complicated language. Outline clearly what will and will not be tolerated and establish the type of communication that will be acceptable within your community.
While effectively using more directive language; you will need to include rules and regulations against hate speech, explicit language, and discrimination. This will allow you to create a safe environment for your audience to coexist in, while also empowering yourself with clear and concise boundaries. Be sure to follow up your rules and regulations with clear consequences that state what actions warrant warnings, strikes, and banning.
After establishing your Community Guideline Policy, make your guideline easily accessible, add it to your website, with links to it in your social media, e-newsletters, and other places you communicate with your customers. It is imperative that you get this policy out to as many of your community members as possible, and in a timely manner. The sooner you have your Community Guidelines in place, the sooner you can get back to effectively managing your customer reviews.
2. Avoid a Debate
When being met head-to-head with negative feedback, it's so easy to take the defense. But this is your business, not a football game.
When a customer is behaving in a confrontational manner, try to keep the conversation Solutions Focused in order to
a) Address the situation that has the customer frustrated.
b) Provide the customer an opportunity to discuss the issue further offline.
Providing an opportunity to take the issue offline allows both you and your customer to further address the situation without getting other community members involved. You don't want to ignore or delete negative reviews, but you do want to create an environment where your community feels comfortable respectfully communicating amongst one another.
3. Respond in a Timely Manner
Time is of the essence; a prompt response time shows your community that not only are you consistently monitoring your reviews, but you also care about the customer experience your community receives through your business.
4. Don't Take it Personally
This may be the toughest rule to follow in responding to negative feedback, but it is by far the most effective for the success of your community and business. At the end of the day, its likely you'll receive a negative comment or a less than stellar review, these things simply happen. Instead of taking a review personally, look at it as a new opportunity to connect with your customers, offer solutions to the present concern, and improve upon your business operations.
Reviews are a terrific way to engage your customers; but with that comes varying forms of feedback. As the business owner, it is imperative to maintain the mindset of reviews being an "opportunity" to celebrate the wins as they come, and to embrace the feedback you receive to build a better and more viable business.
POWER OF PAID ADVERTISING
With the growth of your reviews online, more and more potential customers will be learning about your business. You're off to a great start with your marketing, but don't let 5-star ratings sit idle on your Google Business listing or Facebook page. Now, it's time to use the power of paid advertising to ensure you are reaching more potential customers.
Pro Tip: We've covered What to do with reviews once you have them on Social and What to do with reviews once you have them on Google if you haven't read them yet, check them out now!
We're breaking down how to add advertisements to your tourism marketing strategy, with three monthly budgets to consider. Let's dive in!
$250 Monthly Ads Budget
A smaller budget can still make a big difference if used wisely. Avoid spreading your ad spend too thin trying to pay for multiple advertising channels. With a $250 budget, we recommend using social media to advertise.
You don't have to start from scratch when it comes to making your ads. Consider boosting social posts you already plan to share out or client reviews. Repurposing content you already have will save you time.
Pro Tip: Start small by boosting a post by $50, then let it run for 5-7 days.
Alongside boosted posts, it is also important to make advertisements about your business. Tie in your reviews by pulling statements from them that will catch viewers' attention i.e. Rated 5 Stars or The best restaurant in town! Use a larger portion of your $250 budget to create this ad on Facebook, Instagram, or TikTok. Need more insight into social media ads? Check out our blog post.
While you can have any budget for Google Ads, this budget is not the best use of your money as the reach of your ad and number of clicks will be very low or insignificant.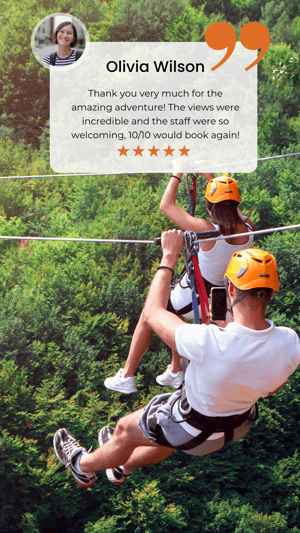 $500
With a larger budget we recommend splitting your dollars to fund social media and Google Ads to reach a larger demographic.
Starting with Google Ads can seem daunting, but the reach and brand awareness you will receive from these ads are worth getting started. Google Ads works on a Cost Per Click (CPC) basis; so, you are only charged per click on your ad.
But how will you get your ad in front of the right users? This is where keywords come into play. As we mentioned in What to do with reviews once you have them on Google, using keywords related to your business found within your reviews will build up your SEO and make your site more visible in search engine results. This is similar within Google Ads. Identify these keywords and build them into your ads so users looking for these services will see your ad pop up.
What should I spend on my Google Ad? CPC is determined by how much the keywords built into your ad "cost." This varies day-to-day but utilizing the keyword planner in the Google Ads toolkit will give you an idea of how much your desired keyword is worth. We often see that a minimum budget of $350 per month will garner at least 2 clicks per day and thousands of views on a variety of platforms that show Google Ads. Google Ads determines clicks per day based on the daily breakdown of your full budget. Once the daily budget is reached, your ad will not show for the rest of the day.
Once you have set your budget for Google Ads, set the remaining balance on social media ads. As mentioned above, a small budget can make a big impact on social media, so don't discredit even $50 on social media ads.
$1000
If your budget is on the higher end, you are bound to see amazing results. But don't let the money speak for itself, you still need to use this wisely and do the proper research before hitting the payment button.
While $350 will get you started on Google Ads, an ideal budget is at least $500 - $700 a month per ad. This will not only improve your reach but allow for more clicks per day. Remember, once your daily budget has been reached, your ad no longer shows for that day, so, naturally, the more clicks allowed, the more your ad will show to your target audience throughout the day.
Like a $500 budget, once the bulk of your budget is set for Google Ads, divide the rest of your ad budget amongst your social media platforms.
Pro Tip: Want to reach even more of an audience? Consider ads on streaming services and local news sites. Splitting your budget between Google Ads, social media, and other services, will get your brand in front of potential customers has never been easier.
No matter your paid advertising budget, there are many ways to boost your reviews and use them to your advantage. Not sure where you should start? We're here to help. With a variety of packages and services, we will meet you where you are, so you can sit back and watch the new customers start pouring in.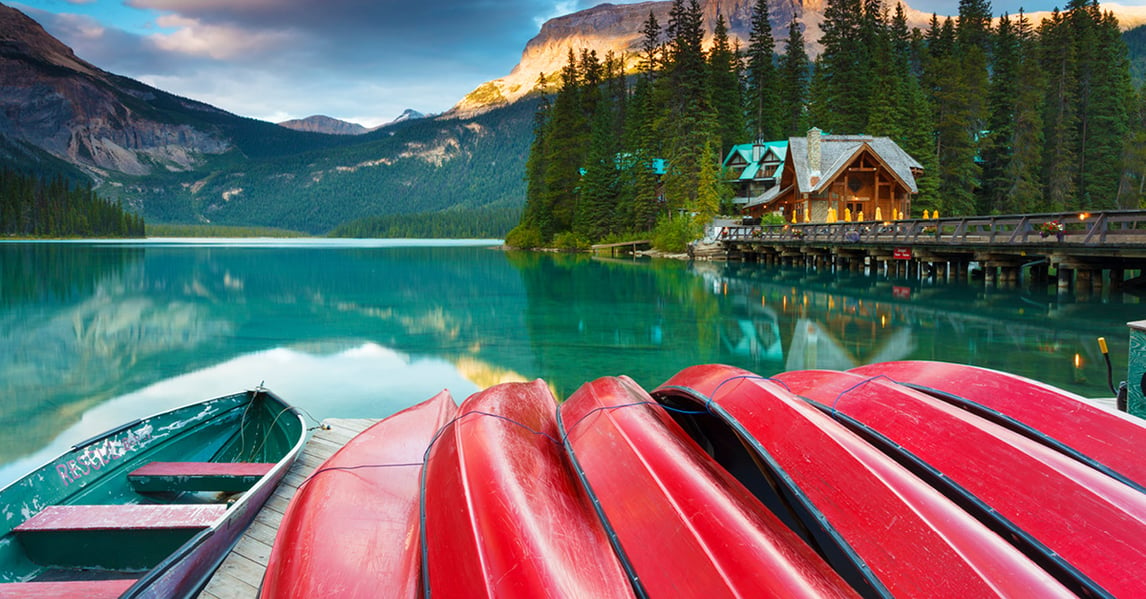 how to maximize your guestbook: putting customer reviews to good use
You've done the hard work of soliciting reviews from you many satisfied customers. They're pouring in from Google, social media, printed comment cards (nice touch!) and even the pages of your leather-bound guest book. Excellent! Now what? If you've been following along with #TeamLUM, you know how important customer reviews and contact details are for your tourism-based business and how to use them on social media and Google. However, your effort certainly shouldn't stop there. Now you need make the most of that feedback and leverage those five-star reviews.
To maximize your guestbook, no matter the medium (digital, print, positive word of mouth), we recommend you take the following four steps:
Get the lay of the land. How many reviews do you have? (How many emails, phone numbers, etc.) Are the reviews mostly about your product(s)? Or do they center around your impeccable customer service? Do an inventory to see what categories appear so you can begin to sort them based on topic, region the reviewer came from, if they're a first time or repeat customer, etc. Understanding the details is a must, allowing you to categorize your reviews. Speaking of…

Segment, baby. Make sure you have your reviews and customer information organized so you can segment, or sort your information. This is a critical component of any review or referral program. Segmenting allows you to personalize your interactions with your customers. A classic example is a workflow emails, or an email that is automatically triggered based on a specific action (e.g. an email asking you to rate your stay following your check out). Segmenting helps ensure your visitors/customers receive the valuable information they want or need to receive from you (such as a discount on spa products since they raved about the lavender candle you had lit throughout their massage). If you don't segment, your customers could feel like you're spamming them with information they haven't asked for or need. Once you actually put your reviews into categories, you'll be better able to decipher how to take action, how to maximize that positive feedback and give your customers more of what they love about you or fix and issue they complained about.

Follow up. Of course, you want to thank ALL reviewers for their feedback (yes, even the negative ones) but you don't want those email addresses and words of praise to sit and gather dust on the shelf. Based on their feedback, follow up with information, specials, event details, that you now know they want and have enjoyed from you. Send a hand-written thank you, propose your referral program in your next e-blast. Whatever it is, stay in touch and keep the momentum!

Show off a bit. Remember when we said get the lay of the land? This is where the topic of review or demographic information also comes into play. Place a review about your customer service on the staff/employee page of your website, so everyone else can hear what an amazing team you have. OR put the review about the cleanliness of your rooms on your next social post about your accommodations. Or even leverage that feedback to create a paid Google Ad and really make a splash. Positive word-of-mouth is marketing gold so make sure others know how rich you are 😊
You've worked hard to be a business that provides a much-needed escape from the daily grind and you have the reviews and customer details to prove it. It's time to maximize that guestbook and show the rest of the world why YOU are a top destination, attraction, or secret get-away that your customers love!
IMPORTANCE OF A REFERRAL PROGRAM
Referrals are easily the most valuable form of marketing for your business or organization. You're helping your customers create memories that will last a lifetime so why not easily empower them to help tell your story, share their experience, and build up your referral-based clientele? A recent study from Retail Candy reported that referral marketing is trusted by 86% of customers, making it the most trusted form of marketing.
The referral process is critical because the leads that are generated through referrals are generally higher quality leads, acquired at a lower cost, and much more likely to close. So, creating a referral program to build up your pipeline of warm leads is a no brainer! It's one of the most effective ways to get more of your ideal customers moving down your sales funnel.
A referral program, for existing and new customers, is intended to reward customers, build loyalty, and amplify your marketing efforts. In addition to the benefits outlined above, we've highlighted some of the top reasons why referral programs are important and worth consideration when strategizing and implementing your tourism marketing efforts:
Improves customer retention. Customers who participate in a referral program are more likely to stick with you. Who doesn't love retainer or repeat customers? If they stay with you, it's because they value the experience.
Direct and authentic way to spread the word about your business. As we said before, referral leads are gold. Customers value reviews, honest feedback, and they especially trust personal referrals (over 90% of the time, in fact). When someone refers you, they are marketing your business in an authentic way, sharing their experience, and encouraging others to do the same.
Generates good and great leads. As mentioned before, a referral lead is one of the best kinds of leads you can get. Since these leads already have knowledge and some trust in doing business with you, they are considered warm, and even hot, when they make contact. They take far less time in the sales cycle and close much sooner.
Encourages brand advocates to share your story. When you build your referral program, you're creating brand ambassadors out of your customer base. A program incentivizes them to not only utilize your services or products again but encourages others to do the same.
Able to identify loyal customers. Knowing who is consistently referring you is essential. It helps you identify a loyal customer base and know your ideal audience even better.
Nurtures long term relationships. Once you're able to identify loyal customers with your referral program, you can nurture relationships with ease. Having customers who repeat and refer your services are more likely to be loyal, long-term customers who view their experience with you as a relationship. Again, experience-based businesses can create and sustain long-term, even lifelong, relationships with their customer base – a reward in itself.
It's just another added benefit of doing business with you! Having another differentiator between you and your competitor is always a great advantage. It adds value to your customer relationships. Why not reward someone who is loyal to you?
If you're unsure of how to get your referral program started, reach out to us. As a marketing agency specializing in tourism marketing, we understand your audience, the importance of referrals, and the power of building and retaining a loyal customer base.
REVIEW, REFER, RETAIN
We've worked through how to gain customer reviews, different ways to implement them in marketing strategies, and the importance of a referral program. Now that you've got your customers reviewing your business and referring their personal contacts, it's time to take actionable steps to ensure you retain these valuable customers!
As a travel or tourism-based business, repeat customers are not only appreciated, but their loyalty is extremely valuable and essential. In fact, the travel industry has a 55% customer retention rate. Though, retaining customers is much easier said than done. To build customer loyalty, you must create unique experiences and make their time spent with you easy and enjoyable. Let's dive into why repeat guests are so important and actionable strategies for customer retention.
Consider these reasons why loyal customers are the pièce de résistance:
Repeat customers spend more. If someone is a repeat customer, it means you either met or exceeded their expectations. They understand and remember the value you provided them and are willing to spend money on add-ons, upgrades, and more due to the trust you have built with them.

New customers are more expensive. The cost of a first-time customer is much higher than a repeat customer. Think about the 80/20 rule: 80% of revenue comes from 20% of your customers. This 20% bracket of your customers are those repeat customers. New customers can cost 5-10% more than a repeat customer due to that lack of trust you have already built with loyal customers ultimately creating more time and effort to acquire them.

Loyal customers become brand advocates. Similar to referrals, loyal customers provide you free marketing with word-of-mouth buzz, online reviews, and user-generated content. People trust online reviews and often result to social media to find travel ideas and destinations. Let your loyal customers create this organic marketing around your business for you.
With the importance of loyal customers in mind, take these strategies to help build customer retention in the travel and tourism industry:
Identify priority guests – but don't overlook the Gen Z traveler. Don't rule anyone out as potential customers. As more Millennials and Gen Z'ers work remotely and seek travel as an escape, many annual family vacations to the same destination are fizzling out. However, don't let the lure of new business keep you from treating repeat guests as a priority and ensure they know you value them by providing incentive and rewards (discussed below).

Personalize their experiences. As the world turns digital, be sure to always have a humanized aspect to customer experiences. Let your customers know you care about their experience feeling personalized to them. You can do this by providing tailor-made experiences, creating cost-effective options, and offering exclusive opportunities.

Embrace technology. More and more people are booking vacations on their phones so accommodating these customers and ensuring your booking site is mobile friendly is non-negotiable. Making decisions, purchases, and bookings easier will help guarantee people feel confident booking with you again in the future.

Pro-tip: consider creating an easy-to-use app that makes booking even easier.

Create a loyalty and incentive program. A loyalty program is a no-brainer and should be the sure-fire strategy to create repeat customers. Consider also going beyond a loyalty program with monetary discounts and additional incentives like a free night or free coffee during their stay.

Implement marketing automation. If you're not sending automated follow-ups after a customer's visit, you are missing a huge opportunity to return top-of-mind, gain reviews, or get another booking out of your customer. Try sending automations at key intervals including one day, one week, one month, and three months after a customer's stay. Bonus option – tie in your loyalty rewards program by offering incentives on booking another stay or personalized experiences based on their past visit.

Always go the extra mile. Several customers will leave your establishment happy, but turning happy customers into loyal, brand advocates is the end goal. Taking the extra step to ensure your customer's experience a personalized, positive experience will help create loyalty. You can go the extra mile by offering personalized excursions, free gifts, discounted upgrades, or custom add-ons.
Reviews are key, referrals are king, and loyal customers are the cherry on top. It's a long process that requires heavy involvement, but creating brand advocates and repeat customers is the gift that keeps on giving.
Get started with the review, refer and retain process with our team of specialists and learn more about our tourism marketing tactics.