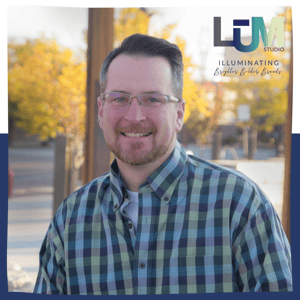 Chris Botkins joined the LŪM Studio team as web designer and digital strategist in March 2020. As COVID-19 was sweeping our country, Chris was sweeping our team's hearts. From the instant our team started working with him, we felt like Chris had always been a part of our team and we'd worked with him forever.
Designing rad websites and elevating our digital skills, both our clients and team are continuously impressed with how he makes a vision come to life and creates to the user's specifics needs. Whether template or custom, he creates designs that are one of a kind and effective in today's content saturated market. His knowledge of what's important to search engines, when and how to use digital ads and social behavior, among many other digital components, assist our clients in growing brand awareness, engagement, leads, customers and revenue.
Chris' attitude and outlook are some of the best things about him. He is up for any challenge, open to all feedback and, most of all, so encouraging of his teammates and their successes. As a hard worker, he's focused on his projects but also always up to step away for some fun (a must with this team).
Chris has been married to his wife, Aimee, for 13 years. Residing in Cheyenne with their two daughters, Kimber and Brooklyn, they bring our LŪM team to a new level of hip. As a bourbon and whiskey lover, Chris will easily talk you into drinking Old Fashions (even if you're not quite the same bourbon lover) and point you to the best brands to expand your palette. His smoking (food smoking that is) skills rival the best, with his smoked lemon bars at the top of our list. We're so grateful to have Chris on our LŪM team.
Reach out to Chris to discuss your website or digital goals and needs!