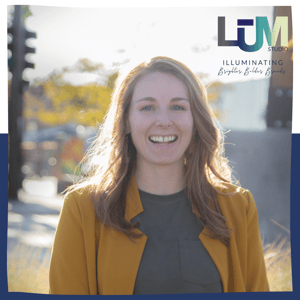 As a recent addition to our LŪM Team, Account Coordinator, Julie Schmitt jumped in and started showing off her public relations and graphic design skills immediately. It's a rare occasion to see Julie without a smile, no matter what task she's working on. Her contagious positive attitude makes the rest of the LŪM team feel uplifted and at ease.
Julie has already taken our clients' social media accounts by storm and amped up their pages with her designs and eye for the unique and different. We are loving what she has done to create a fun, immersive experience for our clients and their audiences! As an Account Coordinator, Julie is able to flex her public relations skills, create design materials, and help ensure the best experience for our clients.
A Casper girl through and through, Julie comes from a tight-knit swimming family and has spent most of her life next to a pool. The Schmitt family's love of water followed her to St. Cloud State University where she swam competitively. Still drawn to the water, Julie often volunteers for Swim America and local high school swim meets.
Aside from swimming, Julie spends a lot of her free time volunteering. She is an active volunteer with the Make-A-Wish Foundation and recently certified her extra fluffy Golden Retriever/German Shepard mixed dog, Scout, as a therapy dog. Scout and Julie regularly volunteer with the K9 Caring Angels. When they are not volunteering, Julie, her boyfriend Nick, and Scout enjoy a good hike on Casper Mountain. She is also working on conquering all the Fourteeners in Colorado and still makes time for sewing, painting, crocheting, or spending time outside. Talk about a busy woman! We are so thrilled to have Julie on our team to help us create and manage bigger and bolder brands.