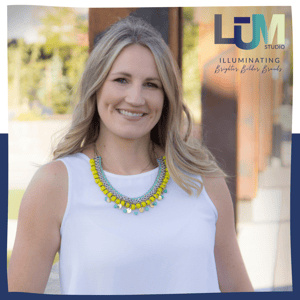 As a Partner at LŪM Studio, Leah Reeb Varela has been a instrumental in business development and operations since the beginning. With a personality and drive like hers, its no surprise that she is the best person for this job. Leah's understanding and compassion make her a great leader, while her knowledgebase and work ethic hold the standard for how to get the job done right. Not only does she keep the business side of things running smoothly, Leah also manages our social media programs for nearly every client. Keeping up on all the current trends and research helps each client excel in their programs and Leah is a driving force behind those results.
Rooted in her DNA is a desire to help people and always do the right thing. These traits make Leah a superb member of organization (she just happens to participate in four major local ones). The Wyoming Food For Thought Project, Advance Casper, the Casper Mural Project, and Rotary Club of Casper are some of the organizations that get to experience her caring nature and dedication firsthand.
While she was born and raised in Casper, when adventure came knocking, Leah took this opportunity to harness everything it had to offer and moved to Costa Rica for nearly a decade. It was there that she found a passion for travel and she was able to visit surrounding countries often, eat amazing local food, experience cultures far unlike Casper, and forge new friendships that would last a lifetime.
As if Leah wasn't busy enough owning a business and volunteering for four local organizations, this lady still manages to make her family, husband Jon, daughter Ophelia, a priority every day. Growing up in Casper also means that she has a large extended family, with who she is particularly close with, and sees nearly every day. (We're pretty sure this is the definition of Super Woman!)
Chances are, you've already met Leah, but if you haven't, you are likely missing a piece of your life you didn't know was missing. Leah's playful nature, friendly attitude, and compassion for humanity bring value to each relationship she is a part of from acquaintances and clients to friends and family, Leah is always in your corner!